Committed to the pursuit of excellence.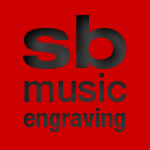 The toolbox
Technology is at the heart of every engraver's toolkit these days and it offers the greatest flexibility and speed to the workflow. Sibelius™ and Finale™ are applications that represent the highest of the industry standards when it comes to notation and their user-defined functions allow for a specific house style to be tailored to your vision. When these are coupled with Adobe's Creative Suite™ and FontLab's Studio™ font authoring software, the full range of desktop publishing utilities are available for a truly professional output.
Core services
• Music preparation in Sibelius™ and Finale™
• Proofreading and correction
• Professionally printed and bound scores
• Artwork for publication
• Demo CD's and audio proofing.
Delivery
We offer a range of delivery solutions including courier delivery right to your door, first class recorded delivery  down to supply by electronic mail and download.
The environmentally friendly option is to conduct all proofing up to final press-ready prints electronically.   We operate in a paper-free environment during the drafting and proofing phase of a project and this is not just good for the cost of your project, it is good for the planet too.
All the digital files used in the construction of your project will be supplied to you by post at the end of your project, and back-up copies are preserved on RAID protected computers in case you ever lose your disk.
Choosing the right production method for your work
The signature that you put to your work is as individual as you are and so we do not offer your typical range of services or products. Instead, every job is constructed around your needs and every job begins with the project brief. Some of the questions we ask, include: How would you like your music setting? Do you want audio support in the form of audio proofing? Do you require a demo CD? Do you requires prints to be made? Do you have artwork you would like to include in the design for the project? Do you want a fast turnaround? Etc. When we have seen a copy of the manuscript and when we have a clear idea of the project outline, a quote will be offered and if you accept, work will commence.
Here in this website, SB Music Engraving endeavours to provide you with an overview of what we do here but we encourage you to contact us for more information and answers to any questions you may have about the production process and the services we offer. A particular timescale may be your main concern but every score is the product of a labour intensive dedication to detail and no score leaves the studio without being checked and rechecked several times. By getting it right first time we save you time and we deliver on time.
You may be looking to self-publish, in which case, we can supply you with all the files you will need for outsourcing your publication and with continuing technical support on offer after your project is completed, you will never be short of assistance when you need it most. If you are offering the project to publishers for publication, the demo CD may be your most important requirement. Audio-proofing is recommended from the outset anyway. Whether you are looking for just a basic score for yourself or your colleagues to reprint at home, or extra parts for your orchestra or, any of the services mentioned above, we offer the complete music engraving package.