Committed to the pursuit of excellence.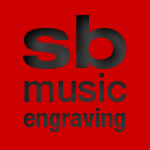 Music samples
In this section we illustrate musical works in some of the more popular formats using a variety of fonts and house styles to achieve the distinctive look and feel of the composition.
Music font samples
Believe it or not, the musical notes, their stems, flags, beams, accents and all the other musical characters we find on a page of music are just another kind of font. All the fonts are available whether we work in Finale or Sibelius.
The major typefaces included here represent some of the best in widespread use today and taken together they embody the modern, old and script styles of notation.
Ordinary fonts
The ordinary fonts sampler illustrates just ten families of font from the thousands available and these are broken down into three basic classes: the Old Style and serif fonts which are frequently used for body text, sans serif fonts used frequently for titles and other headline text, and the script texts used for mainly decorative effect.   Of these, Times New Roman is traditionally used for expressive text thanks to its minimal contrast between light and heavy strokes and extensive character set, though almost any serif font can be used for this purpose. Almost any font looks good for titles, headers, footers and so on, though it is best not to use too many in order to preserve the overall balanced look of the document.
Download

Ordinary fonts